PopToonsTV is a wildly successful YouTube animation channel. It is helmed by the talented twin brothers Deion and Damian who have combined their passions for music and animation into lampooning celebrities. Check out their YouTube channel here!
They commissioned a Game of Thrones intro parody animation for use as a promo for their Megan Thee Stallion ft. Beyoncé – Savage music video parody. The promotional video is embedded below. The full intro video is at the bottom of the article.
Client Brief
Below are extracts from the client brief and how they informed the visual direction of the models and animation.
"Grammy award inside astrolabe"
Love this idea, it was quite simple to model the Grammy award as it's form is simple. However, the problem is, the sun contained within the horn of the award would be obscured. So I cut slits into the horn so the sun's light can shine through. Deion provided the textures for the engravings with the celebrity portraits and logos. Big thanks to 3dtextures.me for their engraved metal texture that lined the rest of the rings.
"Location:​ Kings Landing = ​Bey's Landing ( Bee Crest ) ​Ruler: Beyonce
Surrounding Water: Houston's Bay
Surrounding Water: Carter Sea
Add Bee hexagons or Bee stuff"
As CGPGrey said, hexagons are the bestagons. Bey's landing is a caramel-flavoured wood, brass-plated kingdom where everything is pointy at a 120° angle and packed into neat, honeyed pods.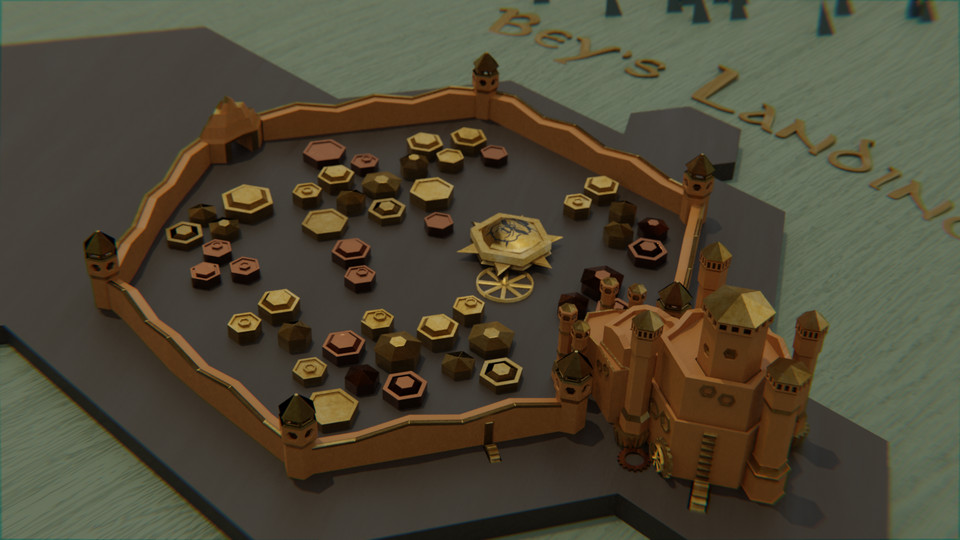 "Location​: Iron Islands =​ Rapper Islands (Young Money Logo) ​Ruler: Nicki Minaj
Surrounding Water: Barbie Bay
Add Ship in sea
Add Barbie Stuff"
Bit of a difficult mix: hip hop music, naval tradition, and Barbie? But the two things I associate with Nicki Minaj (beside her verse on "Monster") are pink and stilettos. Mix in some booming speakers as building, and gear-riding wooden ships with logo-adorned sails, and boom, it all seems so simple. 
"Location:​ Winterfell = ​Calabasafell (Starbucks logo) ​Ruler: Kylie Jenner "
My favourite of the bunch. What better way to get toasty warm in the chilly north than inside the burnt scent of Starbucks coffee cup shaped towers of Calabasafel? My favourite touch is the coffee bean-sprouting weirwood tree, complete with the face of the Starbucks Siren.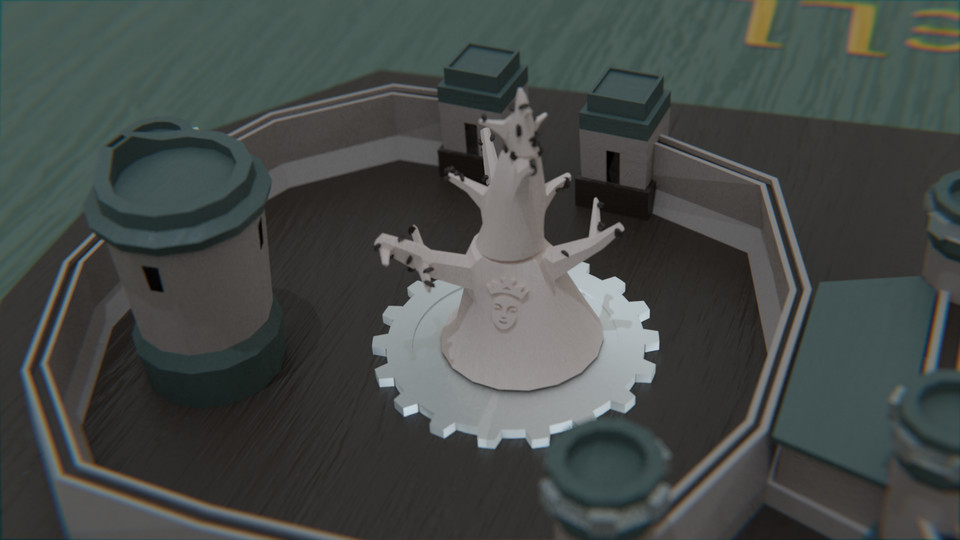 "Location​: Castle Black = ​Castle Ratch(et)"
Time to ascend the wall along the rickety elevator of Castle Ratch(et). So shoddy, there are more gears and wheels keeping the place together than actual living space.
"Location: ​Mereen = ​Big Macheen (Snake Crest) ​Ruler: Taylor Swift
Surrounding Water: Swift Sea
Add snake Stuff/ guitar"
I must admit, I know very little about celebrities, so I hope the snakes and "Big Macheen" name don't land me in the hot water of the Swift Sea of her fans. The snakes ascending corkscrews and the pyramids are a combination of "Dorne" and "Merreen" in the original Game of Thrones intro. 
Allen was incredible to work with, he met all my requests plus more and was very accommodating to my deadlines, budget, and requested modifications. Not to mention, the 3D model and rendering was beautifully done and so creative.